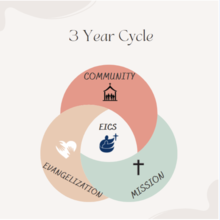 As a Catholic School Division, we are called to share our Catholic Faith with our staff and students. Meeting our staff and students where they are at on their faith journey, we invite them into a closer relationship with Christ.
The three-year cycle of our three faith priorities of Mission, Community and the call to Evangelization must continue to be brought forth overtly, intentionally, with purpose to support the faith journey. 
Our 2022-2023 Theme is Better Together. One Body in Christ.