Catholic Education Week
Catholic Education week is an opportunity to publicly celebrate our mission, our successes, our students, and our future together in service of the Gospels. 
We are please to celebrate Catholic Education Week on May 23-27, 2022.
The theme for this year's Catholic Education Week is
Rebuild, Restore, Renew Together / Rebâtir, Rétablir, Renouveler Ensemble
"Behold, I make all things new." (Revelation 21:5)
«Voici que je fais toutes choses nouvelles.» (Apocalypse 21,5)
2022 Hashtags: #CEW2022 #RebuildRestoreRenew
World Catholic Education Day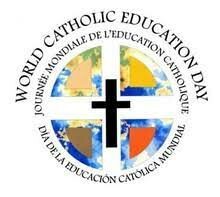 Every year, 40 days after Easter on Ascension Thursday, Catholics across the globe give thanks for the gift that is Catholic education through the celebration of World Catholic Education Day.
Catholic education has served nations for centuries through teaching students in their faith. Throughout Canada, provinces, territories, and dioceses dedicate special days or weeks to celebrate Catholic education. In keeping with these celebrations, World Catholic Education Day is a time for Catholics around the world to take a moment to pause, reflect and pray on the gift that is Catholic education.
This year World Catholic Education Day will be on May 26, 2022.