Our Mission
We are a Catholic community committed to developing 
educational opportunities in the context of Gospel values, 
where students' gifts and talents are celebrated and nurtured 
through lifelong spiritual and personal experiences.
Our Beliefs
That Jesus Christ and his teachings are the foundation and core of our Catholic School Division.
That a quality education is a continuing process that develops the whole person in an environment which encourages success.
That we live out the Catholic faith through our words, our actions and our interactions.
That Catholic education is a shared responsibility between the home, the school, the parish and the community.
That education is a lifelong journey during which excellence is actively pursued.
That everyone has worth and dignity as a unique creation of God.
Director of Student and Staff Formation (Faith, Curriculum and Wellness)
The Director of Student and Staff Formation (Faith, Curriculum and Wellness) coordinates the Division's religious education and health and life skills programs supporting integration into all curricula. This area works closely with religious leaders, students, staff, and families to ensure EICS is providing quality, Catholic education.
Each of us working in Catholic schools is called to be Christ's spokesperson, enabling Him to be present through us in all that we do in support of Catholic education! The role of the Director of Student and Staff Formation is to support all the stakeholders in our school division to fulfill this mission. In Catholic schools, we work together with the family and parish to help young people mature into disciples of Christ.
Our Patron Saint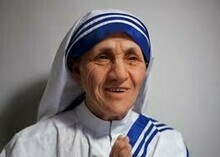 Within the EICS Division, our patron Saint is Mother Teresa, who is also known as Saint Teresa of Calcutta. In 1950, St. Teresa founded the Missionaries of Charity, a Roman Catholic religious congregation which had over 4,500 sisters and was active in 153 countries. The congregation manages homes for people dying of HIV/AIDS, leprosy and tuberculosis; soup kitchens; dispensaries and mobile clinics; children's and family-counselling programmes; orphanages, and schools. Members, who take vows of chastity, poverty, and obedience, also profess a fourth vow: to give "wholehearted free service to the poorest of the poor.