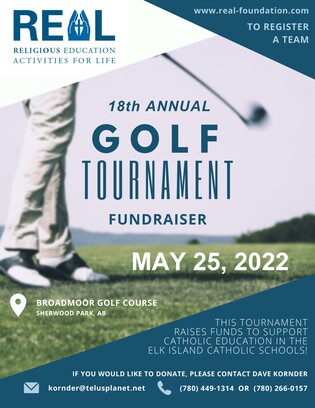 The REAL Foundation supports Catholic education by offering faith enrichment opportunities in all Elk  Island Catholic Schools. Some of the extracurricular activities funded by the REAL Foundation, include: 
Catholic education in-services and training for students/teachers 
Special presentations and guest speakers 
Conferences on student leadership 
Religious retreats 
Scholarships 
Last year, the Foundation supported our Catholic schools by funding all Grade 4 Bibles, the uplifting  presentation of Face2Face Ministries at seven EICS schools, sponsoring high school students to the  National Catholic Youth Conference, 5-$1000 REAL Scholarships for Christian Leadership in each of the  five EICS high schools, the $1000 Catholic Spirit Award and other activities.  
SUPPORT THE REAL FOUNDATION by being part of the REAL FOUNDATION GOLF TOURNAMENT.  Support the REAL Foundation and Catholic education by sponsoring the 18th Annual REAL Golf  Tournament being held on Wednesday, May 25, 2022. There are many ways to sponsor and support  including: hole sponsorship, sponsorship of lunch, dinner and refreshments, providing door prizes or  simply taking part in the tournament as a player or team! Tax receipts will be issued for the full value of  all donations.  
18th Annual REAL Foundation Golf Tournament 
Wednesday, May 25, 2022 
Broadmoor Golf Course, Sherwood Park  
To become a sponsor of the tournament, contact:  
Dave Kornder at 780-449-1314 / 780-266-0157 
To register a team or to learn more about  
the REAL Foundation, visit: