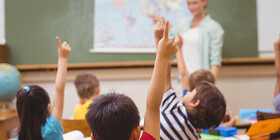 Elk Island Catholic Schools (EICS) families are invited to participate in an Alberta Education survey that's seeking additional feedback for the planned renewal to the Social Studies curriculum.
The brief online survey is available to all Albertans, including parents, students, and teachers, with a deadline of Monday, Oct. 16 to provide your thoughts.
The Social Studies curriculum is ultimately intended to be updated for all grades, but its initial rollout is focused on Kindergarten to Grade 6. 
"The interdisciplinary nature of Social Studies lays a critical foundation for students as they develop their critical thinking skills and gain a robust understanding of our country and their citizenship," said Thérèse deChamplain-Good, Assistant Superintendent for Educational Excellence at EICS. "This is a fantastic opportunity for our school families to help guide how this curriculum will be taught in our classrooms." 
Currently, four phases are planned before the new curriculum is fully implemented. Pilot testing is scheduled to begin in the 2024-2025 school year with teachers having an opportunity to provide additional feedback (Phase 4) prior to full implementation. 
Following this survey (Phase 1), Alberta Education will meet with a diverse set of stakeholders this fall (Phase 2), and provide another opportunity for Albertans to view and offer feedback on the draft curriculum in early 2024 (Phase 3).
For more information and to take the survey, visit the K to 6 curriculum renewal website.