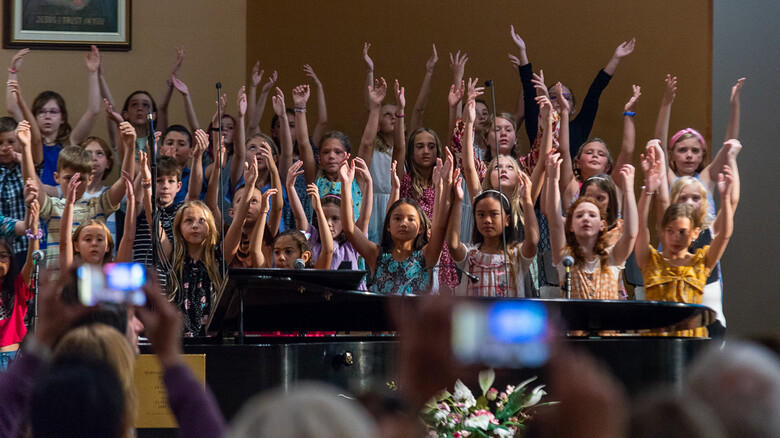 Over the last number of years, Holy Spirit Catholic School music teacher Nellie Kimball-Blanchard has worked with her Grade 3 and 4 students to create an original song that resonates with the division's annual theme. 
This year's song, titled "Go Light Our World", was unveiled at our Opening Day for staff, which was celebrated with a mass at Our Lady of Perpetual Help Church on Aug. 29, 2023. 
An audio recording of the song has been shared with all schools throughout Elk Island Catholic Schools, and will be used during assemblies and at other opportunities throughout the year. The full song and lyrics are available in the video at the bottom of this page. 
The song is inspired by the division theme, which is also Go Light Our World. The theme is based on Matthew 5:16 ("Let your light shine before others that they may see your good deeds and glorify your Father in heaven.").
In crafting the song, Nellie worked with her students to create something that is truly beautiful and memorable.
Much like with all of the division theme songs Nellie has composed over the years, she said she first prayed after learning Go Light Our World would be the theme: "I pray that I will honour the Lord through my work. I pray He gives me what I need to serve Him and our school community."
When divining the lyrics, she works on word selection and phrasing based on the relevant scripture, and takes a few days to hum potential melodies that could accompany the lyrics.
After a few days, "I will sit at the piano both at home and school and record various chord progressions until I find something that sticks; and by that, I mean I wake up singing it. Then I attempt to add the text I have gathered," Nellie recalls.
"I truly believe each song I write for our district is a gift from God."
Once the song starts to take its initial shape, she'll bring it to her music students for them to sing and to provide feedback.
"There are many things that need to work so that students can sing it successfully," Nellie explained. "That often means I need to revisit parts of the song and bring it back to the children. It is quite different singing alone at home versus a group of energetic youth. It absolutely needs to be appealing to them."
By the time Nellie's music students sing at our staff Opening Day ceremony, they would have been rehearsing it for months, dating back to before their summer break. Depending on the day, they would meet in the morning prior to classes, during lunch, or at recess to practice the song and its choreographed hand movements.
"I was absolutely thrilled with their singing," Nellie said of the Opening Day performance. "But more importantly, I was very impressed and proud of their attention to the Mass and to the reason we were all there: to celebrate with our Catholic community in God's house.
"They were magnificent student representatives."
2023 Opening Day Celebration