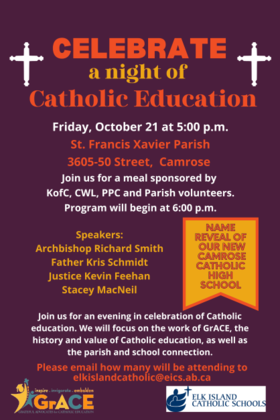 Join us for an evening in celebration of Catholic education. We will focus on the work of GrACE, the history and value of Catholic education, as well as the parish and school connection.
Friday October 21, 2022 at 5:00 pm
St. Francis Xavier Catholic Parish
3605 - 50 Street, Camrose
Join us for a meal sponsored by K of C, CWL, PPC, and Parish Volunteers. Program begins at 6:00 pm.
To register, please email: elkislandcatholic@eics.ab.ca
Join us as we reveal the name of the new Catholic High School.