Election 2017 - October 16, 2017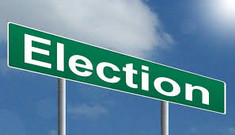 Nomination Day Official Results  - September 18, 2017
Please click here for the results of Nomination day for candidates running for the position of Trustee in the EICS school division. 

In preparation for the October 16, 2017 Election of trustees for the Elk Island Catholic Separate Regional Division No. 41, an electronic information package has been created with documents and links to resources for candidates to use.  
Important Dates: 
Nomination Date is Monday, September 18, 2017.  This is the date that all candidates must file their Nomination Paper and Candidate's Acceptance to run as a trustee in the EICS School Division.  All nominations must be received between the hours of 10:00 a.m. and 12:00 noon on Nomination Day at the Central Learning Services office which is located at 160 Festival Way, Sherwood Park, Alberta.
Election Day in Alberta is set for Monday, October 16, 2017 between the hours of 8:00 a.m. to 8:00 p.m. across Alberta. 
2017 School Trustee Election Information Package:     
Notice of Nomination Day 
1. Notice of Nomination Day  - Sherwood Park Ward 1 
2. Notice of Nomination Day  - Vegreville 
3. Notice of Nomination Day - Fort Saskatchewan 
4. Notice of Nomination Day  - Camrose
Nomination Paper and Candidate's Acceptance 
1. Nomination Paper - Acceptance - Sherwood Park
2. Nomination Paper - Acceptance - Vegreville
3. Nomination Paper - Acceptance - Fort Saskatchewan
4. Nomination Paper - Acceptance - Camrose   
Official Notices in Local Newspapers
Notice of Nomination Day - Sherwood Park and Fort Saskatchewan
Notice of Nomination Day - Vegreville
Notice of Nomination Day - Camrose 
In order to assist you in your journey as a school trustee candidate, here are a number of resources that you may find useful:

1. List of Schools and websites within EICS - click here. 
2. Board of Trustee Policies within EICS - click here. 
3. Local Authorities Election Act ( Specific reference to Sections 21, 22, 27, 28, 47 and 151) - click here. 
4. School Act  -  (Specific reference to Sections 44(4), 80 and 81 (1)  - click here.  
5. Alberta School Boards Association - Trustee Election Page 
6. Alberta Catholic School Trustees' Association - Election Poster 
7. Alberta Education - School Board Election Information Page
8. Elk Island Catholic Schools' 2015/2016 Audited Financial Statement - click here