School Bus Safety Zone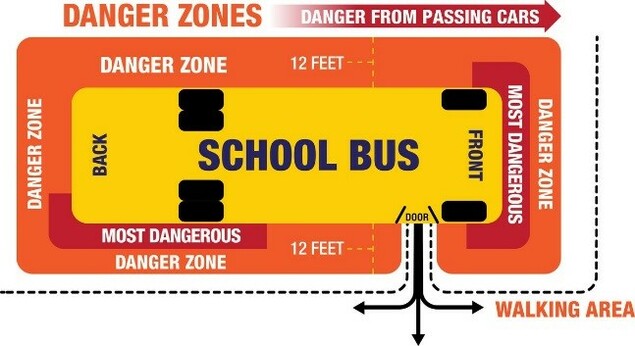 RED FLASHING LIGHTS
Passing a school bus with flashing red lights is unlawful, will result in a $543 fine and 6 demerits points AND could take a child's life. 
Help keep our children safe and obey the law.
Are you required to stop when a school bus has the stop sign and red lights activated?
RED LIGHT MEANS STOP EDUCATION VIDEO
Some municipalities have rules for school bus operation specific to their regions. Most urban centres (ie. Sherwood Park, Fort Saskatchewan and Camrose) do not use their red flashing lights. Students are directed to walk along a sidewalk to the nearest crosswalk after the bus has pulled away. For this reason it is important to slow down and be cautious around schools buses.
BUS EVACUATIONS
All bus operators are required to perform three school bus evacuations each year, two in the fall and the third in the spring.
EICS offers a "First Ride" Program in August of each year insert First Ride Program Link Here, as well as a bus safety in-service in our schools in the fall for all ECS students.  
GPS
GPS allows EICS to provide another method of accountability and timeliness. It is important for the Transportation Department to know where the buses are at in case of a breakdown or bus accident.  We are then able to dispatch emergency services to assist students as soon as possible.  The GPS system will also tell us the speed of the bus, whether or not the light system is functioning along with other critical data.
LARGE ITEMS ON THE SCHOOL BUS
The bus aisle and exits must be kept clear at all times and students must be able to hold all of his/her school items on his/her lap without them projecting out of the seating area, into the aisle or into another student's space.  Items such as large band instruments, hockey sticks, skis, snowboards, curling brooms, etc. are not permitted on the school bus. Small band instruments, skates and skateboards are permitted if stored in an appropriate and properly secured bag (not a plastic shopping bag). This applies to all regular bus runs.
Items no larger than 13″ (33cm) x 13″(33 cm) x 23″(59cm) can be carried on the school buses.
Refer to Section 16 of the School Bus Operation Regulation 437/86 of the Traffic Safety Act.
EATING AND DRINKING ON THE BUS
The first aid courses and the S Endorsement strongly recommend students do not eat on the bus in case a child succumbs to choking. A choking child makes no noise and the driver would not know if there were problems. By the time the driver notices the child is in distress and safely parks the bus, the student could be in real difficulty.
Elk Island Catholic Schools does not allow any passenger to eat (including gum and drinks) on the school bus for either the regular bus trip or field trips.
THE DANGER ZONE!
Please ensure your children are aware of area around the bus which is called the Danger Zone.  Students should never walk in the Danger Zone as the bus driver cannot see them from his/her seat. 
NATIONAL SAFETY CODE COMPLIANCE
Elk Island Catholic Schools bus operators and contracted bus operators must adhere to all EICS policies, administrative procedures and Standards of Operations in accordance with the driver handbook.
BUS OPERATORS:  All of our operators are trained with the Provincial 'S' Endorsement program along with on-going refresher training, First Aid and Hours of Service.
CONTRACTORS: Our contractors adhere to the National Safety Code for commercial operations.
STUDENTS:  Students are expected to behave as if they are in the classroom. Rules are provided to all families at the beginning of each school year and are available here. (Insert a link to our bus rules here.)
PARENTS:  It is an expectation that parents or guardians will accompany a young child to and from the bus stop on a daily basis for safety and supervision.  Please go over with your child the rules and what to do in case they miss their bus.  Don't forget your school bus operator needs to know of medical concerns or special needs for your child.  We appreciate you as parents and will do everything we can to take great care of your child while we have them. It is also imperative that your child be dressed appropriately for the weather.
BUS INSPECTIONS
It is mandatory for school buses to be inspected semi-annually by a certified school bus inspection station and the Division is required to keep a copy of the inspections and all repairs on file for at least three years. Buses are also spot inspected by Alberta Infrastructure and Transportation throughout the school year. From time to time, you may see Motor Transport Inspection Officers at the schools after the morning routes inspecting school buses.
WEBSITES AND LINKS
http://www.schooltrafficsafety.com
RED LIGHT MEANS STOP EDUCATION VIDEO