Bus Service and Pick Up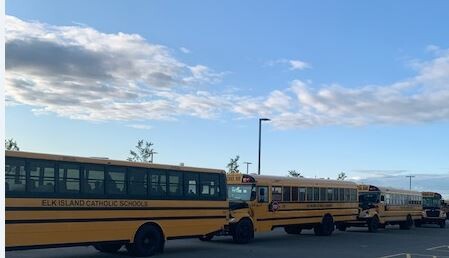 Transportation is not a door-to-door service. For both urban and rural stops, buses do not enter cul-de sacs or access private property.
Bus routes are designed to serve students in the safest and most time efficient manner, within the constraints of the transportation budget. Although it may take 15 minutes to drive to school, buses must stop at numerous locations to accommodate all students. Stops are generally no further than 300 meters walking distance from the residence or caregivers address. In order to provide more efficient service, students from the same subdivision or community are grouped at one common stop.
Students are to be ready and waiting for the bus at their pick up point 5 minutes prior to the scheduled pick up time. Drivers cannot wait for students, as this would add extra time to the routes, especially if a number of students are not ready for their pick up. Students who run after a bus because they are late could slip and fall under the moving bus.


CAN MY CHILD RIDE HOME WITH A FRIEND? HOW DO I MAKE A ONE DAY CHANGE TO BUSING?
The school buses in Sherwood Park, Fort Saskatchewan and Camrose are all very full. For this reason, we are unable to accommodate students to ride home with a friend. In the rural area, parents may contact the transportation office or send a note to the school a minimum of one day in advance to make the request. The school office must sign the note which must then be submitted to the bus operator.
Parents must advise the transportation office and/or their child's school (one day in advance) of any changes to their child's regular school bus transportation routine so that we can inform their child's regular bus driver of the changes.


BUS CANCELATIONS
School bus service shall be suspended at a temperature of -40oC as measured at the appropriate Environmental Weather Service Centre. School bus operators are responsible for the safety of your child and take poor weather and road conditions very seriously. There may be a day where the bus does not operate due to these poor conditions.
Parents will be advised via an email and call out system of any bus cancelations and delays. Parents are asked to:
Ensure all contact information in PowerSchool is accurate and up to date.
Check the eics.ab.ca website for bus status information.
Call 780.449.6480 for our transportation after-hours greeting for details.
Schools are always open unless there is a specific school-related emergency.