Kindergarten in EICS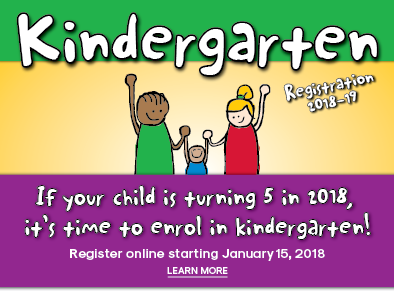 Kindergarten
Independence, initiative, decision making, creativity, the ability to learn, relationships and feelings of self-worth - all have their beginnings in early childhood.We believe that each child is unique and, together with parents as our partners, we build upon children's natural curiosity and spontaneity, encouraging and supporting them as they take their first step into school. 
Please note that Kindergarten registration for the 2018-2019 school year will be available online at 6:00 p.m. on Monday, January 15th, 2018.  See below for registration details.  Please register at your school of choice.  Currently, EICS is reviewing programming in the Sherwood Park area. Should the decision of the board on March 21 impact the program at your chosen school, EICS will accommodate your child at another school. 


Eligibility Starting Date for Kindergarten for the 2018-2019 school year:

To register for Kindergarten in the 2018-2019 school year, your child must be five years old on or before December 31, 2018.

When can I register online for kindergarten?

All registration for Kindergarten in the 2018-2019 school year will begin on January 15, 2018. 

Where are the forms to register online for EICS Kindergarten Programs? 
To register for Kindergarten, please create an account on School Engage and log into the following portal: 
Student Registration
Where do I get information about Transportation and to arrange busing? 

To contact EICS Transportation, please call (780) 449-6480 or email us at transportation@eics.ab.ca
For all forms and requests for busing, please visit the EICS Transportation page at https://www.eics.ab.ca/transportation
Elk Island Catholic Schools and Elk Island Public Schools have worked together to arrange for the same opening date for kindergarten registration for the upcoming 2017 school year.  Both Divisions will have the first day to register kindergarten students for the 2017 school year on Monday, January 15, 2018 beginning at 6:00 p.m.