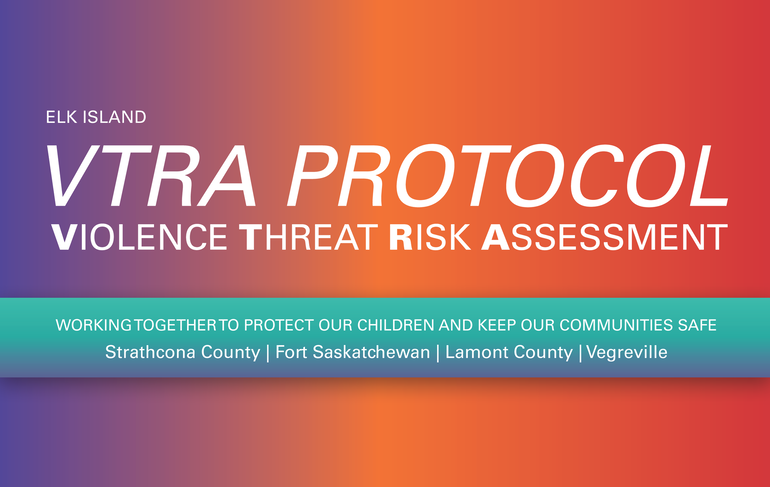 VTRA Protocol - Working Together to Protect our Children and Keep Our Communities Safe
Elk Island Catholic Schools is committed to providing a safe and caring environment for all students/clients, staff, and community members. As such, we have worked together with police and community partners to adopt a Violence Threat Risk Assessment (VTRA) Protocol for the Elk Island area. This is a systematic and collaborative approach to threat assessment, whereby community partners work together to investigate potential threats and put supportive interventions in place. VTRA promotes a common language and understanding of threat assessment, makes use of the expertise of various community partners, and encourages a multidisciplinary approach to violence prevention.
All VTRA partners are committed to intervening when behaviour indicates that an individual is moving along a pathway toward serious violence. Please be advised that all threats of violence will be taken seriously and investigated according to the VTRA protocol. Examples include, but are not limited to the following:
Violent behaviour with the intent to harm or kill another person
Verbal or written threats to seriously harm others or cause significant property damage
Internet, text, or social media threats to seriously harm others
Possession of weapons (including replicas)
Bomb threats or making/detonating explosive devices
Fire setting
Sexual intimidation or assault
The Elk Island VTRA Protocol outlines how schools and agencies will respond immediately to threatening behaviour. The RCMP and school administration is always involved as a partner early in the process, with additional school division and community supports being brought in as needed. This may include Psychologists, Social Workers, Family-School Liaison Workers, Mental Health Clinicians, and other professionals as relevant to the situation. Parents and guardians will be notified as early as possible in the process. Personal information shared throughout the VTRA process will respect and balance each individual's right to privacy with the need to ensure the safety of all.
Mission
All partner organizations commit to responding to any form of violence or threat of
violence that impacts the quality of life for children and youth. The partners agree to collaborate for the common goal of reducing violence and promoting individual, school and community safety.
To achieve this, all partners must use a proactive risk assessment and multidisciplinary
intervention approach, share information and provide consultation.