Continuity of Programming at Elk Island Catholic Schools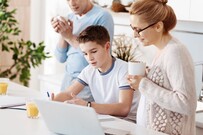 Continuity of Programming at Elk Island Catholic Schools
We are in an unprecedented time. Alberta Education has set guidelines to help us continue student learning but learning at home will look different than in the classroom. 
With students learning at home, students and parents will continue to rely primarily on their teachers for the learning plan and support. 
While students and teachers learn how to interact and connect, we ask you to be patient and supportive. Teachers are taking a variety of approaches depending on the grade level, their experience and the experience of the students.
Our teachers are learning how to teach online and at a distance.
Teachers will use a variety of ways to connect - phone calls, emails, learning platforms like Google Classroom, Class DoJo, FreshGrade or Canvas.
Teachers will be available during normal school hours.
Some work will be done on devices, some paper pencil and students will share their work through a learning platform.
Students will be provided feedback on their assignments.
Individualized supports will be provided through teachers, support staff or their school's connection team.
Teachers will evaluate what has not yet been covered in their classes and prioritizing remaining learning outcomes based on what is manageable at home.
Teachers will provide learning at home until the last day of school.
How can parents help?
We encourage you to help your child by monitoring their daily progress.
Help them to set up a daily schedule.
Organize a working space in the home.
Encourage them to reach out to their teacher for support.
Communicate with your child's teacher and share what is going well and what is not.
Ask your child to share their learning.
Connect with your child's teacher to be connected to Google Classroom or Canvas to stay informed
How much should students do each day?
Students are not expected to be directly engaged in school work for the same length of time as a regular school day.
Alberta Education has released guidelines for at-home learning. These guidelines are described in this news release: Continuing student learning. Questions and Answers from Alberta Education.
Regarding Assignments, Marks and Final Grades
"Every student will receive final grades and will receive a report card, appropriate to their grade level."
Teachers will assess a student's progress and assign a final grade.
Students are expected to continue with their studies for the rest of the school year.
We expect students to put a reasonable effort into their work right through until the end of June.
Teachers will work with students to meet their needs as the situation warrants.
Many courses rely on the skill and knowledge developed in previous grade levels.
For instance, Grade 10 Math relies on skills and content acquired from a full Grade 9 Math course.
Teachers are very aware of the developmental progressions from grade to grade and are applying their professional understanding to teach what they have determined to be the most crucial pieces.
How will teachers mark students' work?
"Teachers will be responsible for assessing a student's progress and assigning a final grade."
In general, teachers will ask students to complete tasks that reveal their learning. Like all assessments, this can be done in many different ways and it will vary from grade to grade and subject to subject.
Principals will continue to work with teachers and assist them with making professional decisions about students' academic progress
What does it mean to be "on track" to graduate?
"Those who are on track to receive 100 or more credits will still be eligible to graduate and receive a high school diploma."
This refers to students' scheduled high school courses prior to the cancellation of in-school course delivery. "On track" means that a student had a schedule that progressed them toward graduation, AND they have CONTINUED to perform successfully towards their graduation goals since online learning became our new method of instruction.
Students must continue to put forth an honest effort to learn in all courses that they are registered in, and that continue to be offered by the school. If there is a course offered that the student cannot complete, the principal should be informed and alternatives should be explored.
Teachers, principals, students, and parents can discuss what that means for each student.
As stated earlier, teachers and principals have a professional responsibility for assessing performance and knowledge to determine a final grade.
There would be no benefit gained by promoting students who have not invested reasonable engagement and effort to demonstrate their learning.
What about the "Unallocated Credits" announced by Alberta Education?
"If the student is unable to complete a course that would have led them to achieving a high school diploma, such as work experience or a career and technology studies course, principals have the ability to award credits to ensure the student graduates."
The authority to assign unallocated credits lies with the principal.
There are many individual factors to consider before simply awarding credits.
We have advised principals to reserve these decisions for later in the school year.
Students or their parents who believe they should be awarded unallocated credits need to discuss their situations with the school principal.
Be sure to reach out to your child's teacher, the school administration team, counsellor or Family Wellness Worker for additional support or clarification. Every family has different realities and we want to work in partnership to support all EICS students during this difficult time.