Sherwood Park Boundary Consultation - 2018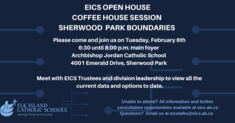 Note: At the March 21st EICS Board of Trustees meeting, the EICS Board voted unanimously in support of moving forward with Option 5 as the model for the Sherwood Park Boundaries Consultation. These changes will not take place until September of 2019 to allow the EICS Board of Trustees, administrators and staff to have sufficient time to make the necessary infrastructure and programming changes needed for a seamless transition for both students and staff. To read the news release, please click here.  To use the boundary map and designated school chart, please click here.
                                                                                              ***

During the first months of 2018, Elk Island Catholic Schools (EICS), we will be reaching out to our EICS family (parents, students, staff and community members) to look at future boundaries that will serve us for a number of years moving forward.  Essentially, Sherwood Park is a very fast-growing community and our population has climbed 24.2 % over the past 10 years and our student numbers have increased by over 700 students.  We need to look forward to how we can best serve our population within our existing schools while the population continues to increase in certain areas of our community. 
It is important to emphasize that the division will be opening this open and transparent consultation on January 9, 2018 and that no pre-conceived decisions have been made.  All the information that will be guiding the process, such as demographics and future growth models for each of the schools is available for context on the Sherwood Park Boundaries Consultation page. 

What are we asking for in this consultation?  
School populations throughout the Sherwood Park EICS schools are not balanced with some schools experiencing overcrowding while others are only minimally full. We want to hear from parents, staff and community members in the EICS family on how the EICS Board can better distribute the EICS school population for long-term sustainability by making a decision to either change the grade configurations at schools or review the boundaries for each of the Sherwood Park schools.
In order to assist with the discussion, we have created a listing of common questions that are being asked in the current consultation that may assist you.  Please click here to view it.  
 The Sherwood Park Boundary consultation will comprise the following steps:
 Early January: ThoughtExchange consultation will be emailed to all Sherwood Park EICS parents and a link available on our website 
 Early February: Results of the ThoughtExchange and possible options are shared with participants and in coffee house meetings
 Mid-February: Deadline for feedback on the options
 Early March: Preferred option is brought back to the community 
March 21st EICS Board of Trustees vote on the recommended option 

In order to assist the EICS community in wading through the complicated issue of boundaries, we have created an information package for each of the existing schools in the boundary area, including current and forecasted enrolment and also expansion plans (for possible portables) for each school on the following pages. This will create a realistic picture of what the needs are currently and where demographics are changing so as possible options can be created with the most information possible.  If you would like any questions answered or assistance with the consultation, please reach out to EICS Communications and (780) 449-7487 or eicstalks@eics.ab.ca and we would be pleased to assist.   


 Sherwood Park Quick Facts     
Please take a look at the following map which gives an overview of enrolment for the entire Sherwood Park area based on grade throughout the years 

Sherwood Park Enrolment Demographics 

Sherwood Park Current K-4 Boundaries 

Sherwood Park Current 5-8 Boundaries 
 Currently, the majority of school-aged and upcoming school-aged children are concentrated in 3 main areas:
Westboro in the south-west
Foxboro in the south-east
North of Baseline Road
Central Sherwood Park, east of Sherwood Drive, which includes Brentwood and Glen Allen, is currently experiencing a shift in demographics where younger families are moving into the area as the older population is moving out.  Based on current forecasts, EICS will not qualify for a new school until at least 2027 when total utilization for the community reaches 85%. 

Future Growth
Development in Sherwood Park is currently occurring in the following areas, which are being developed and serviced:
Cambrian Crossing, which will be north of HWY 16 has had its Area Structure Plan approved, however there is currently no timeline for servicing.