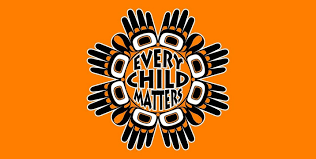 On May 31, Elk Island Catholic Schools lowered our flags to half-mast in honour of the children who were students at the Kamloops Indian Residential School and whose remains were recently located. Our prayers go out to the families of each of the students. Our flags will remain at half-mast for 215 hours, an hour for each child, from May 31 to June 8. Staff and students were encouraged to wear orange today and in the coming days, EICS will continue to acknowledge this tragedy and honour the memory of these students.

EICS grieves with individuals and families who have suffered and continue to suffer, due to the damage caused by the residential school system. We reiterate our commitment to truth and reconciliation so that through education and partnerships, we will continue to enhance understanding of Indigenous perspectives, culture, and teachings as we work toward meaningful reconciliation.

There is a National Indian Residential School Crisis Line that has been set up to provide support for former Residential School students and those affected. Access emotional and crisis referral services by calling the 24-hour national crisis line: 1-866-925-4419.