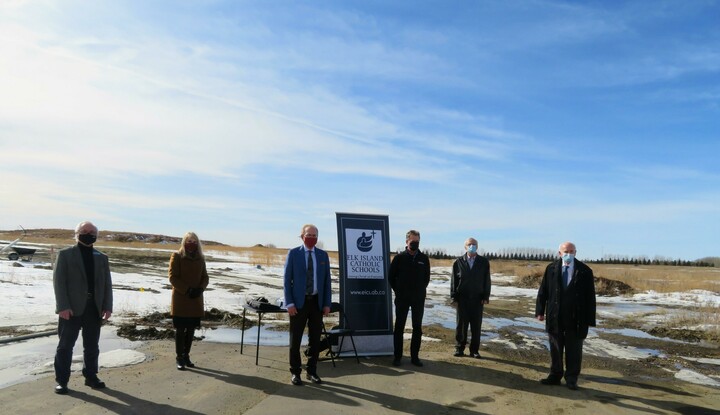 Outside a yellow field in the middle of Valleyview West subdivision of Camrose, Elk Island Catholic Schools (EICS) Board Chair Ted Paszek, Trustee Ron Baier, Superintendent Haggarty were joined by provincial and municipal partners on the site of the new grade 9-12 high school. 

MLA Jackie Lovely, Mayor Norm Mayer and his councillor colleagues Kevin Hycha and Max Lindstrand stood on the ground where the new school will be built.  The celebratory event was joined by Saint Francis Xavier Parish Priest Fr. Joby Augustin and EICS Camrose Administration Team Principal Bob Charchun of St. Patrick Catholic School, Assistant Principal Michelle Nanais of St. Patrick Catholic School and Kristy Smith, Assistant Principal of Our Lady of Mount Pleasant Catholic School.  
As a division, we are so thrilled with this new school as we are bursting at the seams in both of our EICS schools in Camrose.  We look forward to working with all of our provincial, municipal and community partners, parents and the parish as we make this design phase into a reality.  Choose Joy!