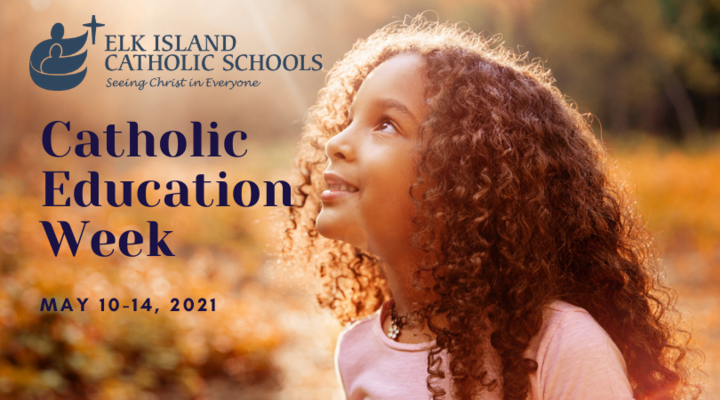 Each year, supporters of Catholic education across the province join together in prayer and celebration for the gift of Catholic education.

The theme for Catholic Education Week 2021, which runs from May 10 to 14, is "those who hope in the Lord will renew their strength" (Isaiah 40:31).
Within EICS, schools will be doing a number of faith-filled activities during the week starting on Sunday, May 9th when the winners of the GrACE Celebrating Catholic Education contest will be celebrated within the parishes. 
Sunday, May 9: GrACE Celebrating Catholic Ed contest recipients announced
Provincial Prayer with the Bishops of Alberta shared virtually at 11:00 a.m. each day. The focus will be a devotion to St. Joseph.
Thursday, May 13 Provincial Day of Prayer for Alberta's Catholic Schools.
Thursday, May 13 is World Catholic Education Day. All are invited to wear blue in support of Catholic Education.
Provincial Prayer with the Bishops of Alberta shared virtually at 11:00 a.m. each day
 
 

Bishop

Link

Mon., May 10

Liturgy

Bishop David Motuk Eparchy of Edmonton

Meeting ID: 851 9184 0999 Passcode: 103446

Tues., May 11

Seven Sorrows and Seven Joys of St. Joseph

Archbishop Pettipas Archdiocese of Grouard-McLennan

Meeting ID: 869 9150 4909 Passcode: GPCSD

Wed., May 12

Holy Mass

Archbishop Smith Archdiocese of Edmonton

Thurs,, May 13

Liturgy

World Catholic Education Day

Bishop Terrio 

Diocese of St Paul

Meeting ID: 982 1302 9174 Passcode: ss8L2Z

Fri., May 14

Liturgy 

Consecration to St. Joseph

Bishop McGrattan Calgary Diocese

Meeting ID: 992 7479 9089 Passcode: 1drDm3