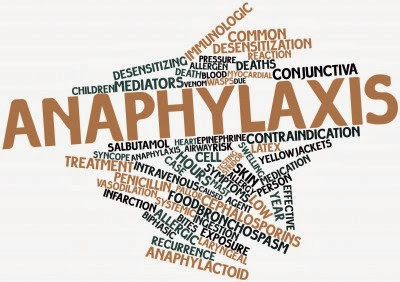 Anaphylaxis is a severe and potentially life-threatening allergic reaction. Food allergies are the most common cause, but insect stings, medication, latex and exercise (typically after eating a specific food) can also cause a reaction. It is vital that our schools are trained to respond appropriately and quickly to deal with these situations.   
Signs and symptoms of anaphylaxis can include:
Tingling, numbness, pain in the lips and tongue
Itchy eyes, nose, and face
Flushing of the face and body
Swelling of the eyes, face, lips, tongue and throat
Difficulty swallowing, wheezing, coughing, difficulty talking and breathing
Hives, abdominal cramps, vomiting, diarrhea
Weakness and dizziness, drop in blood pressure, loss of consciousness, death.
EICS has an extensive set of procedures and resources for staff/students/families in dealing with anaphylaxis in our school settings.  
Documents include:
Admin Procedure 317 Anaphylaxis Or Severe Allergies November 2016
Admin Procedure 317 Appendix A Resources

Admin Procedure 317 Appendix B Roles And Responsibilities