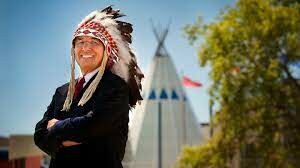 Chief Wilton Littlechild spent 14 years of his life in three different residential schools in Alberta.
Born in Hobbema, now named Maskwacis, Littlechild went on to become a lawyer, member of Parliament and a commissioner with the Truth and Reconciliation Commission.
On Friday, he left for Rome seeking an apology from the Pope.
"It will be very emotional I'm sure for me for a number of reasons," Littlechild said.
Between 25 to 30 Indigenous people are expected to be part of the delegation scheduled to meet with Pope Francis. He will be joined by Bishop William McGratton of Calgary and also Métis elder and Grande Prairie resident Angie Crerar, and Gary Gagnon, an Alberta Métis delegate.