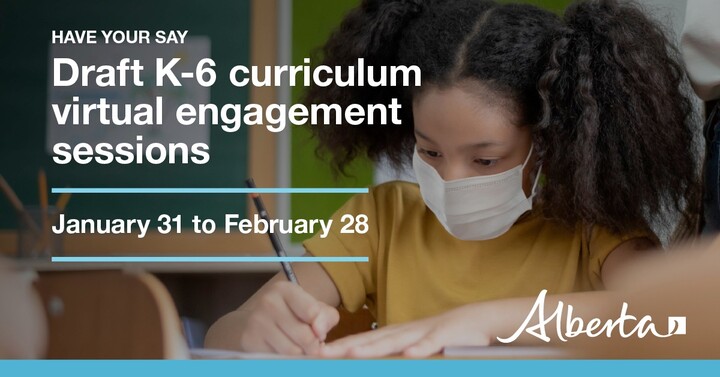 Information from the Government of Alberta: 


From January 31 to February 28, 2022, Albertans can participate in virtual engagement sessions to have their say through focused conversations on the draft K-6 curriculum. We are providing up to 44 engagement sessions across five regions: north, Edmonton and surrounding area, central, Calgary and surrounding area, and south. This regional approach will enable communities to share local insights and unique perspectives. While Albertans are encouraged to participate in their region, they have the flexibility to attend any session that works best for them.
During each session, one draft K-6 subject or the draft K-6 Social Studies design blueprint will be considered. The sessions will feature focused, small group conversations facilitated by independent engagement specialists to ensure balanced two-way dialogue. Albertans can sign up for notifications about upcoming engagements and register for sessions at alberta.ca/curriculum-have-your-say.